Excellence, Audacity and Transgression
Performance in Martinique
Excellence, Audacity and Transgression​
FIAP is Martinique's own festival dedicated to performance art. The festival is a meeting point for local and international artists to create site-specific performances together while strengthening non-institutional networks. C&AL spoke to the curators Annabel Guérédrat and Henri Tauliaut about performance as the artistic medium most accessible to the public and bringing the Worlds of Aqua (water), the Iguana, Afropunk and Techno Shamanism into this year's festival.
C&AL: How did you develop the thematic structure of this year's festival?
Annabel Guérédrat and Henri Tauliaut: Just like the 1st edition in 2017, there is no theme for the new edition of the Festival, FIAP2019 Martinique. However, there are two important features this year:
AG: As curators, Henri and I encourage artists to create an exchange, an encounter. We stimulate new collaborations, new interconnections and non-institutional networks between artists from Martinique and the artists who will be coming from abroad. Thus, we offer participating artists the opportunity to pair with another artist, in order to create a duet performance in situ, outdoors (at a research and investigation laboratory set up in a natural environment near the beach on the southern tip of the island, at the Savane des Pétrifications) and indoors in Fort de France.
HT: During a one-day creative workshop, we invite and encourage scientific debates among researchers, academics, artists, art critics, curators, engaged activists and the audience to open avenues for reflection on the importance of performance art, its subversive side and the taboos questioned through this genre.
C&AL: Could you tell me more about how the artists were selected?
AG: There was no open call or call for applications. Henri and I selected the participating artists whom we already knew as friends, as we are part of the same big family of performers. We appreciate their work, which we have seen performed live, during our artist residencies all over the world or at festivals where we'd been invited. Many artists we chose talk about ecological issues, or queer identity or postcolonial issues.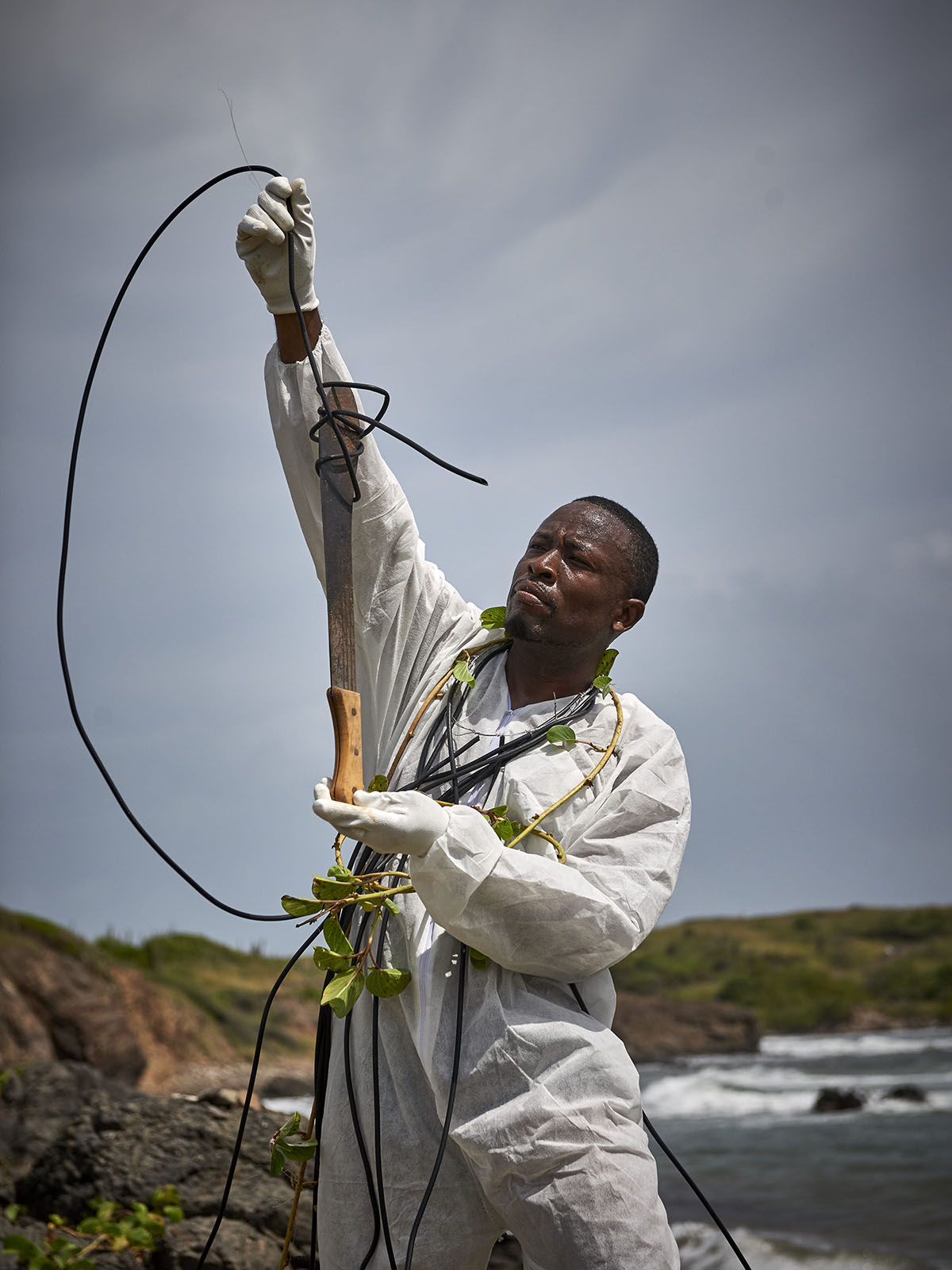 Lara Kramer and Marvin Fabien, performance en duo, Dream installation; Savane des Pétrifications. © 2019CieArtincidence, FIAP 2019 Martinique. Photo: Jean Baptiste Barret.
Many artists we chose talk about ecological issues, or queer identity or postcolonial issues.
C&AL: You are artists too. How does that sensibility play into your role as curator?
AG/HT: As curators, it is important for us to maintain a family atmosphere at our festival. There is no star. Everyone is at the same level, in a good-natured atmosphere, serene, where we take care of each other.
C&AL: The Caribbean has a very particular relationship to performance. How do the traditions relate to performance as an artistic medium?
AG/HT: We wanted to develop the art of performance here in the Caribbean since it seems to be the best medium to reach the audience locally. Painting, sound and sculpture in contemporary art remain elitist. Performance art is more easily accessible to the audience, who is attracted by living art and knows the concept of the ritual via local magico-religious practices and via our Carnival.
Moreover, performance art in the Caribbean is a mixed practice, incorporating visual arts, sound, dance, theatre etc.… Like during our Carnival, or in our sacred practices which do not derive from the Western world. That's why the interconnections are easier, between performance art and the audience here. The body is at the center. There is no representation. It is real. The audience is more touched and moved by this specific artistic practice with the body, which is performance art.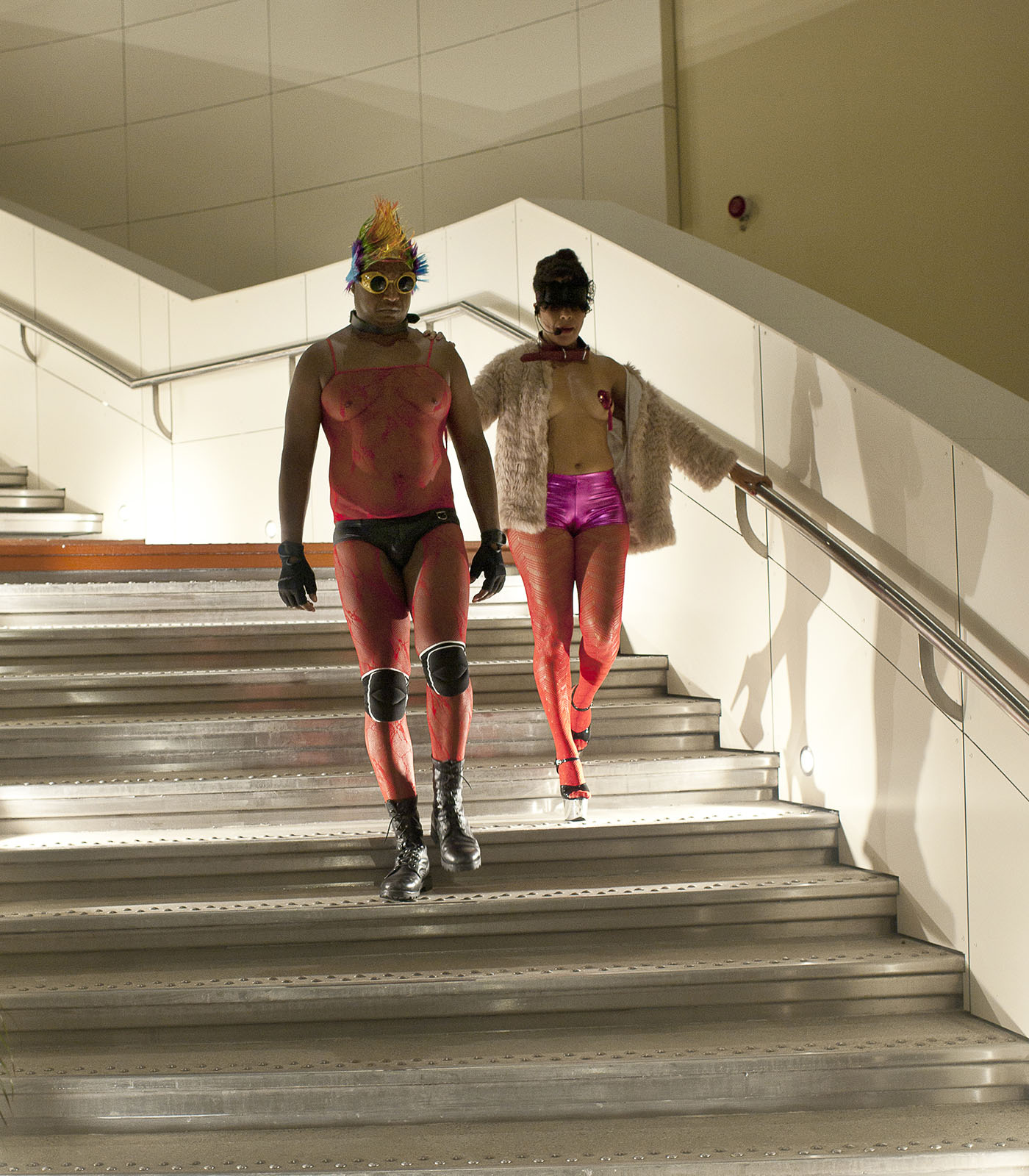 The FIAP curators Henri Tauliaut and Annabel Guérédrat. Performance Nus descendant l'escalier,2015, Mémorial ACTe, Guadeloupe. © 2015CieArtincidence, Photo: Robert Charlotte.
C&AL: How does Martinique's performance culture relate to other cultures in the Caribbean?
AG/HT: We use three words to describe our festival of performance art here in Martinique (which is part of the French West Indies in the Caribbean): excellence, audacity and transgression​. Performance art is totally adapted to what we want to transmit and express. As a ritual practice that incorporates the body, time and space in performance art and culture, we use our bodies to involve and affect the audience, for instance, by moving in extreme slow motion or by walking. We invented four worlds through our performance art practice (the Aqua, Iguana, Afropunk and Techno Shamanism Worlds). During Carnival, which takes place every year during five days, we did a performance, and it was one of the best examples of what we're doing with our performance art in Martinique. Many other Caribbean islands have their Carnival at the same time, and their Carnivals also question the art of performance.
The Festival International d'Art Performance (FIAP) took place in Martinique from November 5-11, 2019.
Will Furtado is the deputy editor of Contemporary And and is based in Berlin.​